About Istanbul Food…
Istanbul Food is about supporting and emphasising on real, local, genuine, comfortable, tasty food and of its people, my people, my food heroes, my esnaf! This is their stories, with my touch, my experiences, my memoirs…
You will read my observations based on my expertise, my own palate, my own pleasure, my own choices, my money, my own precious time! So, establishments that match my purpose is not found here simply because I yet not find them or I did not want to write about them. Hence this is not a restaurant guide. That simple! Istanbul Food does not have any sponsors, so I can write all about there is…
About me, Tuba…
I was born in 1972, to a Thessaloniki, Istanbul and Mardin compound family. Being raised by a refined grandmother and a true gourmet mother, not to forget my father's heritage of the gorgeous southeast tastes of Turkey, I heritage the best of both cultures. While cooking with my granny, I learned all about fundamentals of cooking and kitchen while my mother, living on the coast of Aegean sea, garnished me with all the produce available and unavailable. A great way to grow up! I was lucky!
Now for the curious minds…
After my graduation from Bilkent University, I worked in kitchen and service department in many hotels as part of my  training,  starting my way through a successful career in Food and Beverage industry. I participated in pre-opening of an international chain hotel, an international restaurant as well as a university. I was one of the first female F&B managers in the international hotel chains in Turkey. Quit my day fullday job in 2009 and writing about Turkish food and culture around my memories and experiences to Istanbul Food since.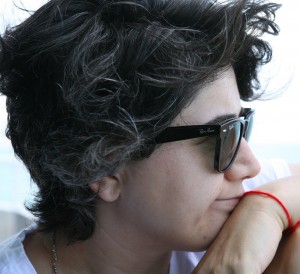 My first book Güneşin ve Ateşin Tadı, Gaziantep Mutfağı is out in 2012 from YKY, me being the photographer.
I am still working as a professional photographer, food story teller an irrepressible traveller, after the perfect bite.
So, enjoy!